We belong to worldwide family COLAS, construction group with french BOUYGUES as its majority shareholder.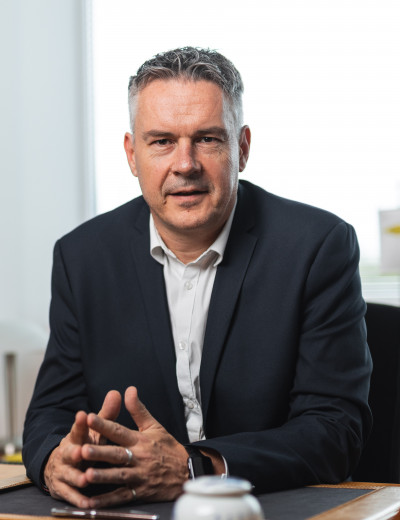 Chairman of the Board,
CEO
Cyril Pinault came to Slovakia for the first time in 2015 as a project manager of R2 Ruskovce – Pravotice project to improve the completion of the site and finalize the handing over and the claims. Afterwards in 2017 he took over the responsability for the direction of the site  Jaguar Land Rover Infrastructure. In June 2018  he has become the general manager of Inžinierske stavby, a.s. and CESTY NITRA, a.s. Under his managment both companies merge finally into one under the name of COLAS Slovakia.
Before Slovakia he was working for 6 years in China as a general manager of a construction company SADE- VEOLIA group specialized in civil works and based in Shanghai. With 20 years of experience in construction works managment his ambition is to modernize the company, make it more proactive and emphasize the team work vision.
Ing. Juraj Serva
Member of the Board,
COO, Road construction manager
Juraj Serva joined COLAS in 2011 as Commercial-Technical Deputy manager in CESTY NITRA, s.a. The very same year he became Executive Director of CESTY NITRA, s. a. In 2012 he became member of the Board of directors of Inzinierske stavby, s.a. and CESTY NITRA, s. a. too, till present days. Since 2012 he is also Manager of the whole road construction segment of COLAS companies in Slovakia.
He joined Inzinierske stavby, s.a. in 2011 as Economic Deputy manager in Roads East Center. Since 2015 he has been Chief Financial Officer for COLAS companies in Slovakia and since June 2018 Member of the Board as well.
He studied economics and managment in Czech Technical University in Prague and before COLAS he worked as financial manager in several Slovak and international companies.  

Annual financial reports 2018 for download
5 main principles
of our business activities
People are our main value and all principles we acknowledge and follow are linked to people.
Health and safety of employees
Maintaining everybody´s health and safety at work in all our workplaces is the basic condition to achieve our goals.
Research and innovation
Research and innovation activities of our parent company allow us to offer new products and technologies to our clients in Slovakia too to meet their specific requests.
Public health and safety
It is important to us that the public feels safe during the execution of our works and that there are no harms or injuries caused by using our services or projects.
Compliance with ethics and quality principles
Our productivity and future are based on trust we gain from our clients, employees, partners. We treat all our teammates fairly and honestly.
Protection of the environment
In our activities we eliminate their negative impacts on the environment. We percieve environmental protection as our duty and i tis a crucial prerequisite for our responsible development.